This massive 102-year-old Gothic cathedral, formally titled the Cathedral Church of Saint Peter and Saint Paul, is the official seat of the Presiding Bishop of the Episcopal Church in the United States (and of the Bishop of the Episcopal Diocese of Washington).
Gargoyles at Washington National Cathedral include Darth Vader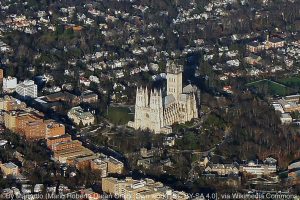 There are 233 stained glass windows (including the great rose windows in the south transept, displaying scenes from the Book of Revelations, and in the west, showing the Creation), a 53-bell carillon (each bell, including the 12-toner, is carved with a Bible verse), a 10,250-pipe organ, nine chapels (many with fine murals or mosaics), dozens of wrought-iron gates, hundreds of elaborate carvings, and scores of gargoyles— including Darth Vader, devils, golfers, and caricatures of the  famous and the humble.
There's even a piece of moon rock, brought back by Neil Armstrong and Buzz Aldrin aboard the Apollo 11, embedded in a glass bubble of what is called the Space Window. Those familiar with the Al Pacino movie The Devil's Advocate will recognize the Frederick Hart carving Ex Nihilo in the west façade. It's 0.1 mile from the nave to the high altar; the ceiling is 100 feet high, the central tower more than 300. Don't miss the Bishop's Garden, designed by Frederick Law Olmsted and modeled on a medieval walled garden, or the Pilgrim Observation Gallery and a view of Washington from the highest vantage point in the city.
TOURING TIPS Docent-led highlights tours are offered daily and last about 30 minutes. The high tea and highlights tour is fabulous. You can also visit the grave of Woodrow Wilson, the only president buried in Washington. Bring binoculars to view the fascinating stone carvings, as many are high up—such as the one that shows a young boy with a baseball bat and glove and his sister with a rag doll. The Cathedral isn't well served by public transportation, but walking there takes you through safe, pleasant neighborhoods that are home to Washington's elite: it's about a half-hour stroll up Cathedral Avenue from the Woodley Park–Zoo/ Adams Morgan Metro.
GOOD TO KNOW
Washington National Cathedral is located at Massachusetts and Wisconsin Avenues NW. The nearest Metro station is The Woodley Park–Zoo. The Adams Morgan station is about a half-hour walk. Admission is $10 for adults and $6 for children, seniors, and members of the military. Admission is free on Sundays, as well as on weekdays for those who visit to worship or pray. Hours are Monday–Friday, 10 a.m.– 5:30 p.m. For more information visit the website of Washington National Cathedral.
Picture courtesy of:
Mariordo (Mario Roberto Durán Ortiz) (Own work) [CC BY-SA 4.0], via Wikimedia Commons