The oldest hotel in Las Vegas, the Golden Gate Hotel is a vintage property with an even more vintage casino. Retaining its historical flavor while undergoing an update, the casino has been enlarged and a five-story wing has been added at the south end. While the main pedestrian entrance remains on the Fremont Street Experience, the south side now sports a porte cochere facing Carson Street. The remodeled registration area with period furniture and memorabilia adjoins that entry lobby. Most of the interior is little changed since the hotel opened in 1906 as the Hotel Nevada at 1 Fremont Street, across from the train depot. New-fashioned patterned ceiling tile, freshly painted red and brown walls, and natural stonework are evocative of the way it was. Pillars, dark woods, chandeliers, carved glass, and mirrors in the low-ceilinged gaming area create the illusion that you're gambling during the Roaring Twenties. The flapper-costumed Dancing Dealers add nightly fun to this ambience.
The aura at today's Golden Gate Hotel is old is new again. The original guest rooms in the older building are beyond compact, and none of the 106 rooms are similar in size and configuration, reminiscent of a time before building codes and uniformity. Rooms are decorated in black, white, and rose red. Queens and double-doubles are available. Bathrooms are tiny with stall showers, and the floors retain their centenary black-and-white tile. The new 500-square-foot tower rooms repeat the signature tobacco and brick shades in the casino. All rooms have been upgraded and offer Wi-Fi and iHome docking stations. Bathrooms are larger but again feature showers only.
As the Hotel Nevada, the Golden Gate was assigned Las Vegas's first telephone number, "1," and proudly displays the town's first telephone, along with old ledgers, registers, and other historical documents from the era. In the 1930s, the hotel was inanely called the "Sal Sagev" ("Las Vegas" in reverse), but it was rechristened the Golden Gate Hotel and Casino in 1951, when new owners from San Francisco took over. The same family has owned and managed the property ever since.
The Golden Gate Hotel Still Home to the Original Shrimp Cocktail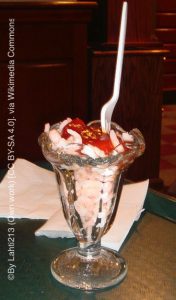 Home to the original and still-famous shrimp cocktail, the casino's rear deli is dedicated to serving this honorable $3.99 snack to hundreds of customers weekly. Also on site is DuPar's, with old-fashioned counter service and booths from the hotel's original restaurant. One of the casino's two permanent outside bars on Fremont Street features bar-top dancers, frozen drinks, and beer, while the other refreshment stand spotlights Flair bartenders whose cocktail-creation skills are showstoppers. A bandstand provides live music nightly. The hotel appeals to the budget-minded, Gen X–ers interested in a historic property, and old-timers reliving Las Vegas's very early days.
For more hotel reviews, check out The Unofficial Guide to Las Vegas by Bob Sehlinger.
Photo credits
Shrimp cocktail at Golden Gate Hotel: By Bobak Ha'Eri (Own work) [CC BY 3.0], via Wikimedia Commons
Golden Gate Hotel sign: By Lahti213 (Own work) [CC BY-SA 4.0], via Wikimedia Commons